SHOP NOW
Our Best-Selling Products
From loose leaf herbal tea blends to vegan and kid friendly gummies to ready made syrup, we offer a wide variety of quality elderberry products to help you on your health and wellness journey.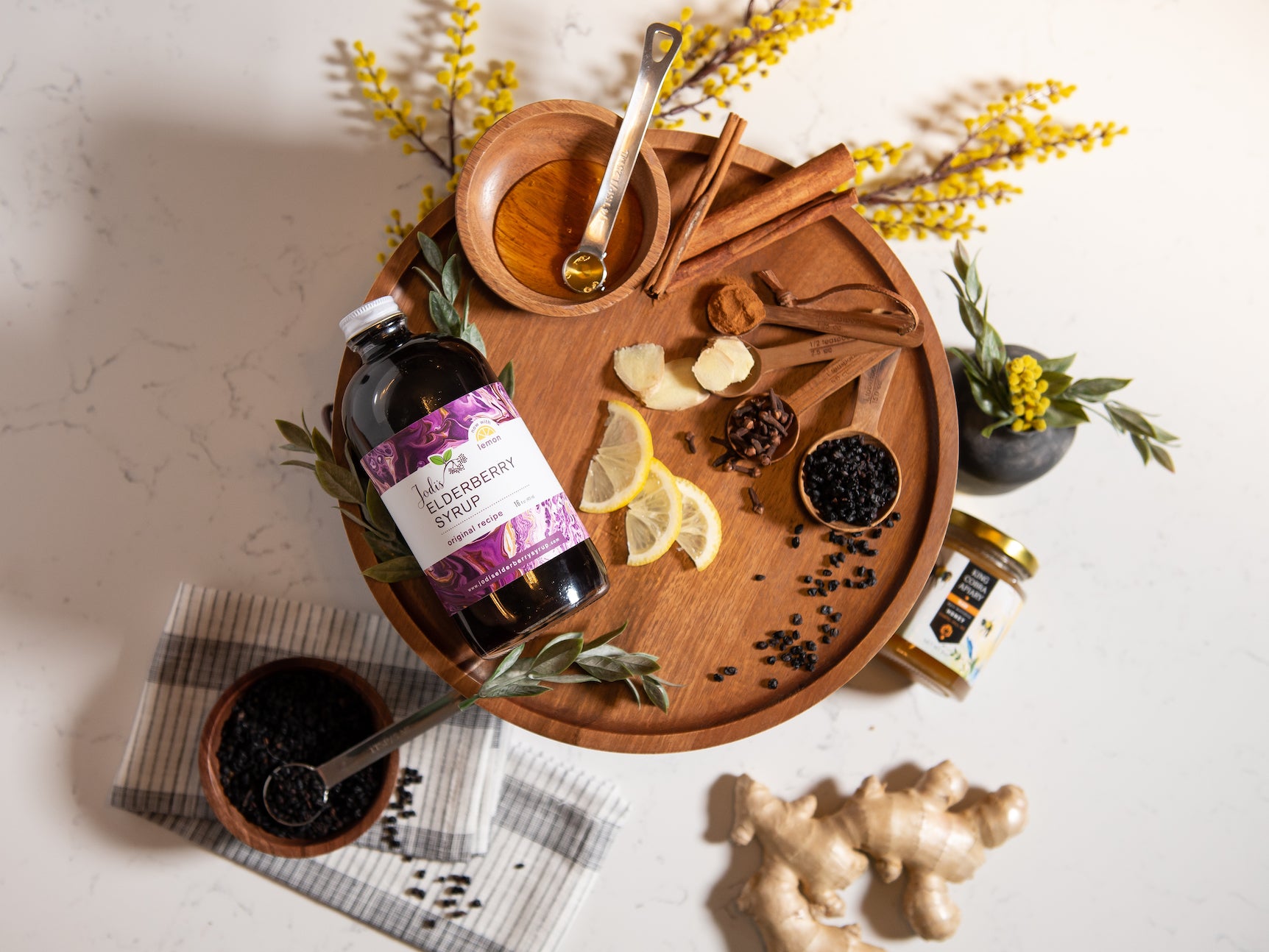 in-store availability
Available in a Store Near You!
Our elderberry syrups and products are available at over 40 retail locations around NC! Find a store near you for convenient, in-store pickup!
LEARN MORE
About Elderberry Syrup
Give the Gift of Health
Elderberry syrup offers a wide host of health benefits, especially as it relates to strengthening your immune system. Jodi's Elderberry Syrup is all natural, made fresh in a certified commercial kitchen in Johnston County, North Carolina with the following ingredients: organic European dried elderberries (sambucus nigra), organic ginger, organic Ceylon cinnamon, organic cloves, organic lemon juice, water, and raw local honey (Chapel Hill, NC). Have any questions about elderberry syrup? Check out our FAQ page!
LEARN MORE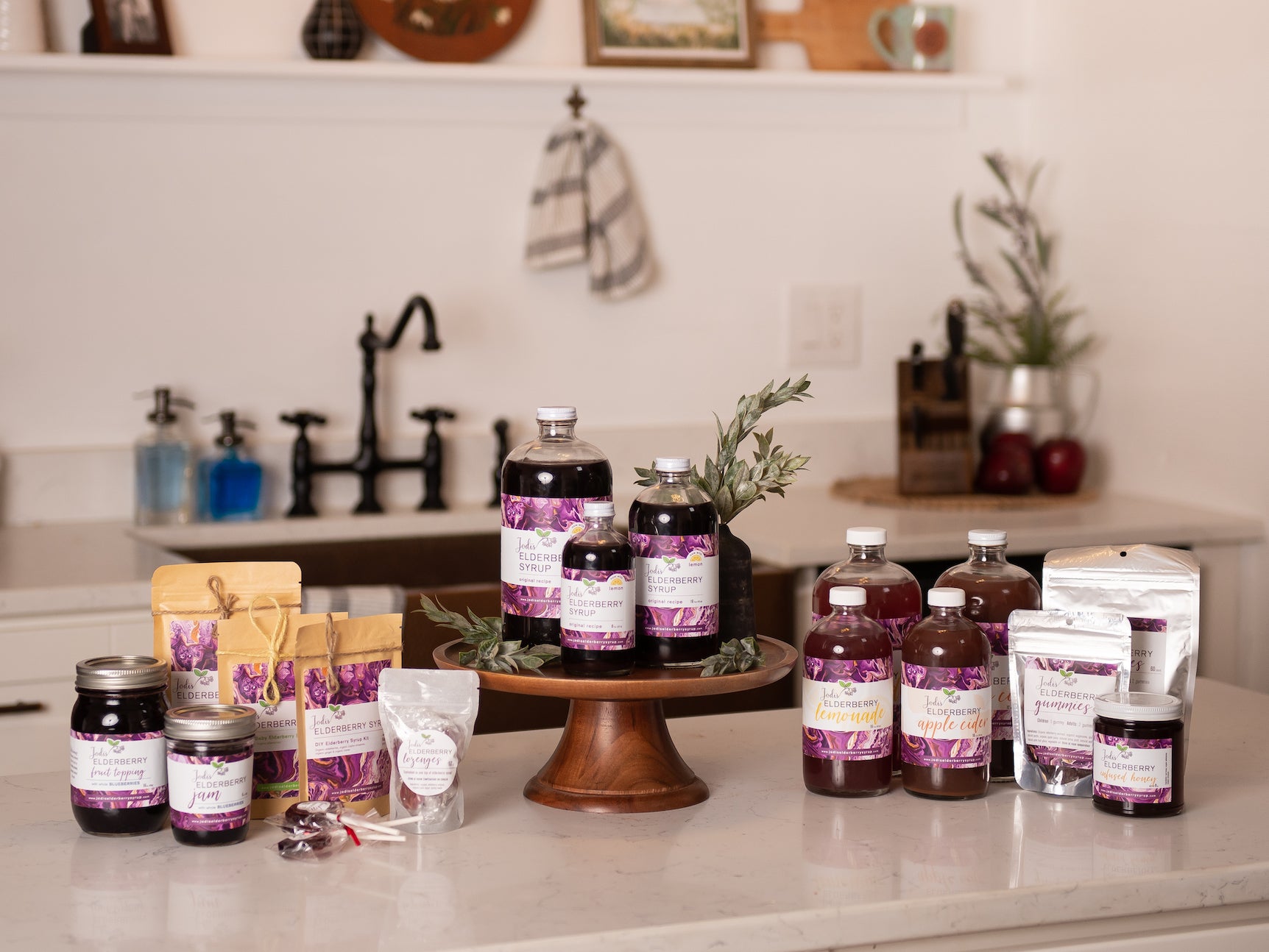 CUSTOMER REVIEWS
"Jodi takes great pride in having the best possible product! She uses local honey and has spent a lot of time finding the best sources for her ingredients. She has been so professional and helpful the multiple times I have purchased from her. Her product has been so helpful for my family during this nasty cold and flu season! I highly recommend her to anyone who asks!"
— Lyssa Anne
""I purchased this for myself and one for my baby (under 1). She and I both love it. She is super excited when it's time for her special treat. I'm happy to have something to give her that's natural. Very thankful for this product.""
— Kelly C. Johnson
"Ok… I know it's not possible that this syrup is magic… I KNOW THAT. But I'll say it. It's magic. My son spiked a fever of 102 and was so lethargic. I was picking up syrup an hour later and he woke up with NO FEVER! Back to his normal self! He loves the flavor so much and and is always asking for more "Brown Medicine" haha thanks Jodi!"
— Toni Keniston
"I have been taking Jodi's elderberry syrup every day for over 2 years. I haven't been sick since, not even a sniffle! Jodi's elderberry syrup tastes soo good, try it-you won't be disappointed! (And I just bought the elderberry gummies for my husband, he loves them!)"
— E.H.
"One day I wasn't feeling well and happened to see a post for Jodi's Elderberry. I decided to purchase it and give it a try. I was not disappointed! The syrup definitely made me feel better and has since become a regular for me. I've recommended Jodi's syrup to everyone I know. The only thing better than the syrup is the amazing customer service I've received every time I have made a purchase."
– Eric Vinson
"My husband and I absolutely LOVE Jodi's Elderberry Syrup! It's delicious! We both work in healthcare and are exposed to all sorts of crud every day. We take a spoon every morning to start our day (or add it to our morning shake), and take a couple spoons throughout the day when we feel like we might be starting to fight something off - we swear by it! My parents and some family just moved to the area and I'm about to get all of them some to help keep their immunity up too. I love that it's locally made, with amazing local ingredients, and we can just pop in to a variety of local small business locations to pick up a jar! Thank you, Jodi, for such an amazing product right in our backyard! ❤️"
– Stephanie Kaiser
"After Covid began last year my wife and I researched Elderberry and wanted to try it. We didn't know that our neighborhood had someone that made it from scratch. I reached out to her and literally got my 1st bottle the same day. I got another bottle recently and love the organic lemon juice. Jodi is the real deal! I recommended her to my cousin and she recieved hers in the mail days later. Check her out."
– Stan McClarin
"My family and I have been using Jodi's Elderberry syrup for almost 3 years. We started using it when my husband was diagnosed with cancer and needed to start chemo. I wanted myself and 2 kids to build up our immune systems to keep from bringing extra germs in the house. My husband started taking it once his treatment finished. We have continued to take throughout the pandemic while also working on the front lines in healthcare and industry and have remain healthy. We recently also started getting the gummies. These have been great for our family traveling and for my husband who is on the road for work frequently. The gummies allow us to easily keep taking elderberry daily to keep our health a priority! We have recommended Jodi's syrup to many others who have begun taking and vow by it now! Another perk is it's tasty, neither of our young children have every fought us in taking!"
– Morgan Burns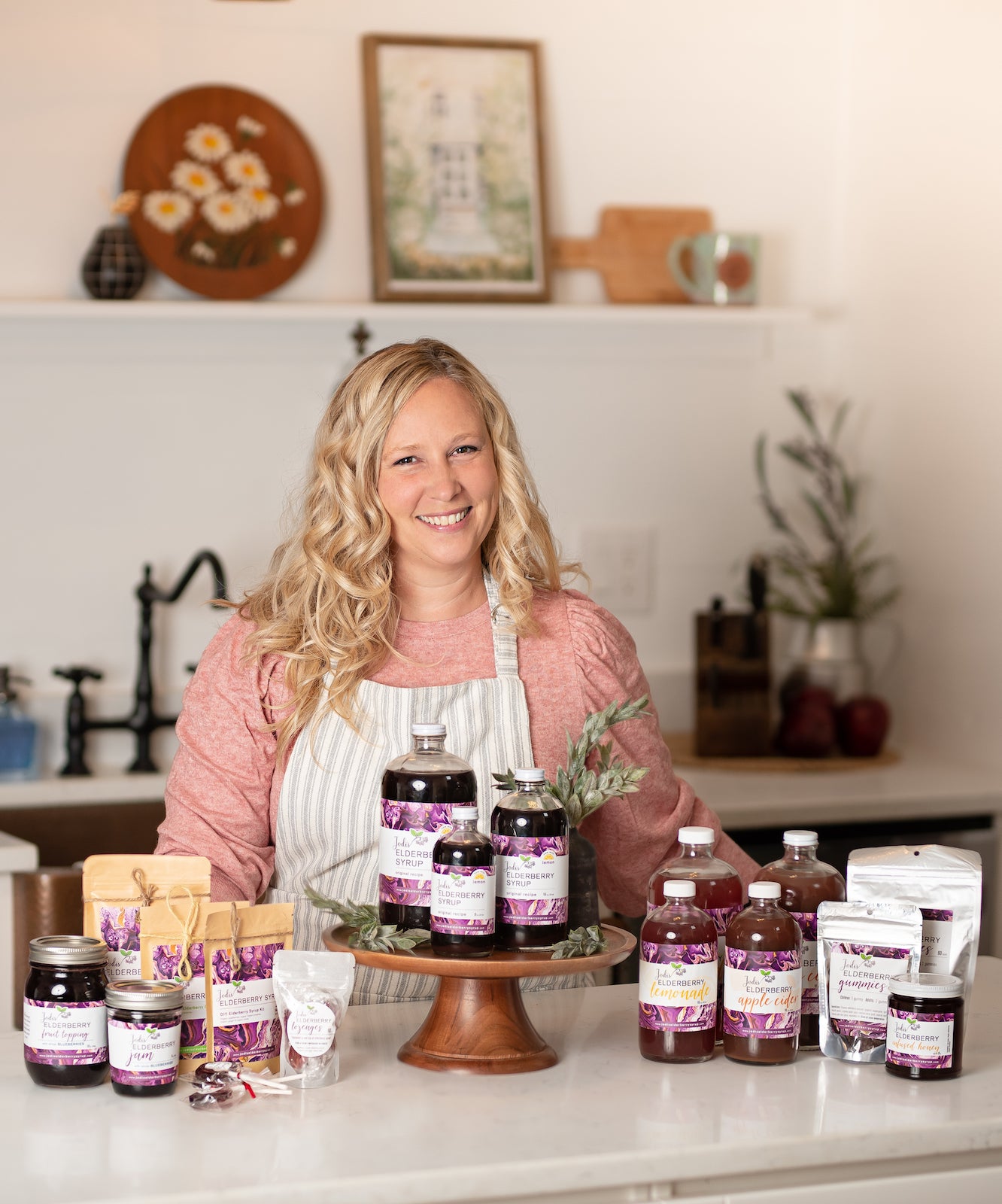 Meet the Owner
Jodi Keegan
Hi, I'm Jodi! I started my business in my home kitchen, making elderberry syrup for my family to keep them well and boost their immunity. My syrup is now made in a certified, commercial kitchen and is inspected by the North Carolina Department of Agriculture. I hope my elderberry syrup proves useful to you and your loved ones on your health and wellness journey!
Read more
NATIONWIDE SHIPPING
We ship to all 50 US states for a simple flat rate (free shipping if order is over $100!)
QUALITY GUARANTEED
We use the highest quality, organic and locally-sourced ingredients!
SECURE PAYMENTS
We accept credit/debit cards, PayPal and more!
instagram
Jodi's Elderberry Syrup